Panama Birthday Party
Panama Birthday Party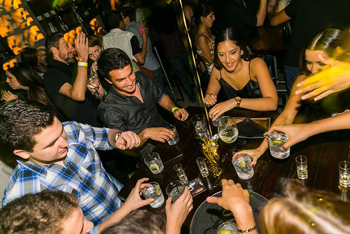 Your birthday is a big deal. Celebrate the right way by throwing the party of a lifetime in Panama. Situated between the Pacific Ocean and the tropical rain forest, Panama has a hot climate that is perfect for outdoor activities and adventures. Of course, the nightlife scene is also top-notch with plenty of adults-only nightclubs, gentlemen's clubs, and pool parties. If you're tired of hosting mundane birthday parties at home, you'll find plenty of new and interesting experiences in Panama. To ensure that your party is a hit, we offer several package options, as well as a wide selection of activities and amenities.
Our first package is designed for guys who want to spend their birthday relaxing and enjoying the beautiful weather in Panama. It begins with a birthday cake provided to you and your group. Pass out slices of the delicious dessert before heading off to your own private pool party. Panama is the perfect place to host an adults-only pool party as the weather is always hot and humid. Don't worry; the pool party won't have an invite list of just you and your friends. We'll invite a few hot bikini-clad ladies to join you at the pool.
Our next package option is perfect for both men and women looking to celebrate in a high-energy atmosphere. Again, you'll start by sharing a tasty birthday cake with your best friends and party guests. You'll then have the opportunity to experience the nightlife in Panama at full force. Maybe you want to head to one of Panama's best known nightclubs and enjoy VIP bottle service. Or perhaps you want to spend your evening at a gentlemen's club with some of the most beautiful girls in the country. The diverse nightlife scene is the perfect environment for a birthday party, whether you celebrate in a bar, lounge, nightclub, restaurant, or other venue.
If you're an adventurer, Panama's got you covered. There's so many outdoor activities to do you'll have a jam-packed day of excitement. Try zip lining through the rain forest with active wildlife at every turn. Parasail above the crystal blue waters and experience an instant adrenalin rush. Feel the wind in your hair as you drive across the beach on an ATV. There are also other great activities if you have the courage to try them, such as riding in a helicopter hundreds of feet off the ground or scuba diving in the ocean.
How you get around Panama is almost as important as where you go. Driving in Panama can be a little chaotic, especially if you're unfamiliar with the area. Skip the stress of driving in favor of a chauffeur-driven limousine. We offer an impressive fleet of luxury vehicles for your visit to Panama, including options like party buses and stretch SUV limos. Use your limo to explore the city while lounging on the plush leather seats or have a driver pick you up directly from the airport upon your arrival. Traveling to a new city can be intimidating, but having an expert driver at your disposal makes it easy.
Hanging out on the water is an excellent way to spend a birthday. We offer lavish yacht rentals and charters for groups that want to lounge at sea. We offer a variety of yacht rental packages which offer a host of amenities, such as a VIP hostess, limo transportation to and from your hotel, a yacht reservation for between two and six hours, and your choice of one of several modern and luxurious yachts. Additional VIP services are also available, such as on-deck massages, catering, live DJ, and an open bar.