Panama Strip Clubs
Panama Strip Club Guide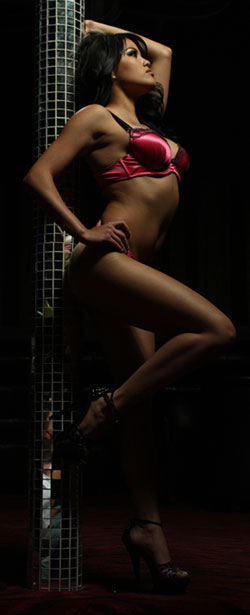 If you're going to travel to a country where you're in the company of some of the world's hottest gals, you might as well make the best of it. Attending a strip club may otherwise be considered "taboo", but there's no reason why, on this special occasion (be it your birthday, bachelor party, or even week long getaway) you should deny yourself the pleasures of staring at half naked women. With VIP in Panama, you can find yourself granted VIP access to some of the hottest strip clubs in the country.
One of the best things about going to VIP in Panama with your strip club needs is the fact that everything, right on down to the transportation to your desired club, will be taken care of. No matter the occasion, you'll find yourself on the receiving end of the most genuine VIP treatment one could ask for. Enjoy a luxury limousine ride to and from each strip club, which will give you plenty of time to ogle Panama's second most beautiful feature - it's landscape.
Once you arrive at your destination, you'll find yourself bypassing any lines and cover charge. Your VIP host will escort you to your own private VIP table, complete with a premium bottle service. From here, the night really takes off.
Panama women are gorgeous, there's no other way to describe them. Following a standard of au natural, Panama-based strip clubs like Le Palace and the Gold Nugget Lounge ensure that you're not stuck watching some botched breast implant sway the night away. Of course, the coveted lap dance is going to be the pinnacle of the evening, and within your own private VIP area, one girl should have no problem tending to your group of anxiously waiting friends.
With clubs like Elite II, you'll be treated the whole female figure. Watch as the sexiest women in Panama bare all for your enjoyment. Here, you'll be able to choose from a variety of lap dances, ranging from bikini clad vixens to complete nude beauties. Drink in both the view of the sexiest women alive working to entertain you and a plethora of finely priced and expertly crafted mixed beverages.
No matter what club you decide to go to, if you use VIP in Panama, you'll be treated to the utmost VIP experience. Being in your own VIP section with guarantee that the girls work extra hard to please. At the close of the night, you'll find yourself with yet another limousine transfer, waiting patiently to bring you back to your port of harbor, so you don't have to worry about watching your alcoholic drink intake.
Strip clubs are rarely so simple to get into. Typically, lines outside the main door put a damper on your night. Avoid the lines, avoid the cover charge, sit back and enjoy the show, courtesy of VIP in Panama. If you think the city of Panama is gorgeous, wait till you see the women that strip down to nothing in it.