48 Azimut Yacht Rental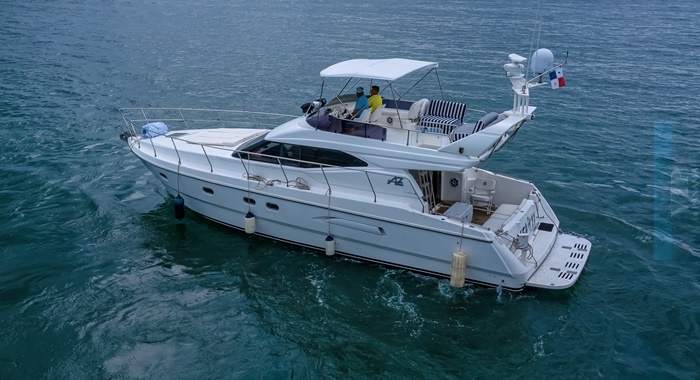 Panama offers a plethora of boating opportunities on both its Caribbean and Pacific coasts. Explore the hundreds of islands and cays that surround the Central American country via luxury yacht. The Azimut 48' boat is the ultimate way to experience the gorgeous Panama coasts. The spacious 48-foot boat is able to accommodate mid-size party groups, and is perfect for all types of celebrations. Whether you're interested in yachting for pleasure or simply want to take a day excursion with a few close friends, the Azimut 48' yacht offers everything you need in a luxury boat rental.
Accommodations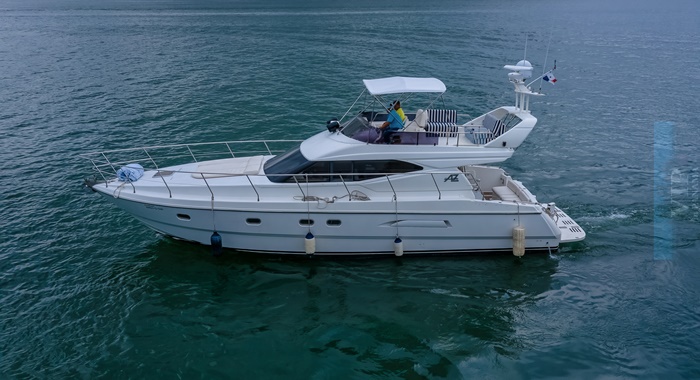 With multiple interior rooms and expansive outdoor decks, the Azimut 48' yacht can accommodate small- to mid-sized groups with ease. The boat has a maximum capacity of 15 guests, allowing you to gather all of your closest friends and family members for a day of fun they won't soon forget. Inside, you'll find three comfortable cabins equipped with beds and other essentials, allowing your guests to relax away from the sun's direct heat. The Azimut 48' yacht also has 6/8 berths and two head compartments. What more could you possibly need during a rejuvenating day out at sea?
Luxury Amenities
The Azimut 48' yacht offers a multitude of features and amenities designed for relaxation and fun. From the alluring bathing platform where guests can soak in sunrays to the dinette with center table where guests can gather to eat and socialize, the yacht's design caters to boaters.
Starting at the main deck, you'll find a spacious cockpit with a four-person divan. This area hides access to the boat's stern locker. Under the divan, a mini-bar can be installed for easy access to cold refreshments. The locker can also be transformed into a crew cabin for enhanced privacy.
The dining area has ample space for a refrigerator, storage compartments, gallery-equipment drawer, and a barbecue hotplate. There is also plenty of seating covered in ergonomic cushioned sun pads which can also function as tanning loungers. Up at the stern, the sunbathing platform acts like your own private beach. There is also room on the bow for two more people to sunbathe.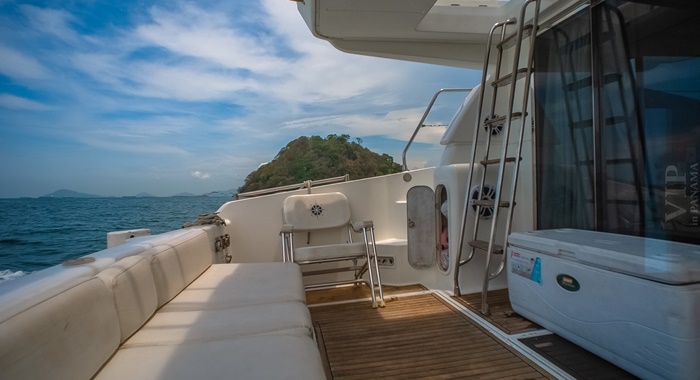 Around the perimeter of the boat are large walkways which allow guests to walk around and enjoy the views. High steel handrails help keep boaters safe while the yacht is in motion. Spend the day lounging in the sun or grab some fishing gear and try your luck at fishing at one of countless top fishing spots.
Inside the living area of the yacht is a comfy C-shaped sofa that can pull out to function as a double bed. Under the sofa are storage lockers where guests can safely keep their belongings while onboard. If you have a large group dining with you, the folding table can easily adjust and expend.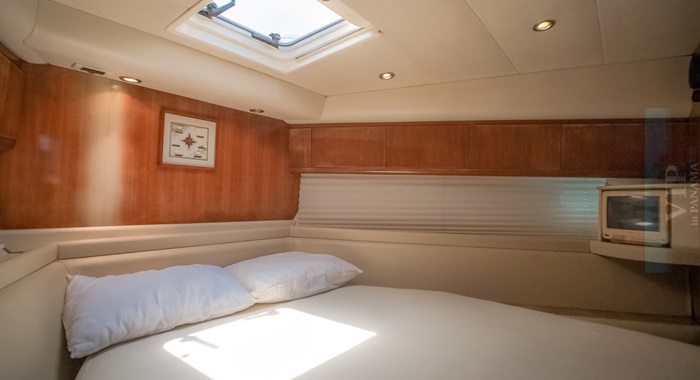 Below deck, the three cabins are accompanied by two bathrooms, each with their own separate shower. The yacht also offers guests picturesque views through three- segment rectangular windows. A porthole also opens up to allow breezy ocean air to enter the space. There is also plenty of storage space in the owner's cabin. In addition to having two wardrobes and compartments under the bed, the private bathroom also has fitted cabinets.
Included Provisions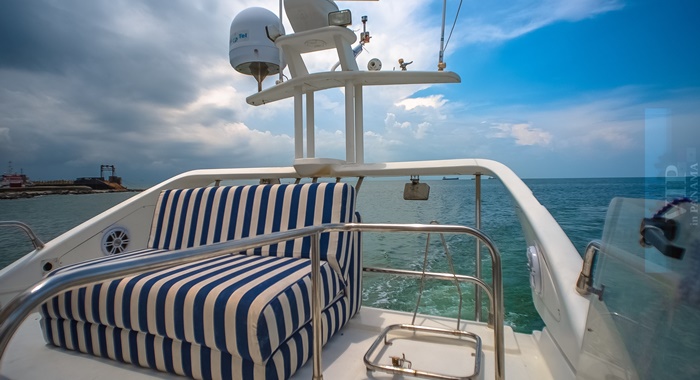 When you reserve the Azimut 48' yacht, you'll be provided with a number of other great perks to enjoy. This includes water, ice, and soft drinks for you and your guests. In addition, your reservation of the yacht includes gas, your own crew, and doc fees.
If you are planning a trip to Panama or are already in the beautiful country, consider spending the day onboard the Azimut 48' boat. For more information or to reserve the yacht, contact VIP in Panama.
Reserve 48 Azimut Yacht Rental Now