Cheoy Lee Yacht Rental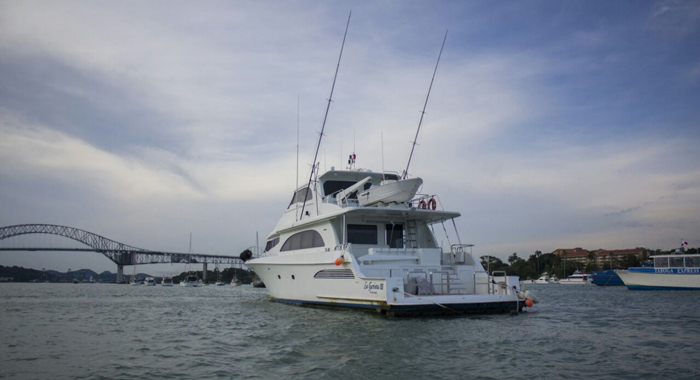 Panama offers countless boating opportunities. If you're hosting a celebration or just want to spend a day lounging in the sun with a group of your closest friends, consider reserving a boat. The Cheoylee 92' is not your run-of-the-mill vessel. The luxurious mega yacht will have you living the good life as soon as you step onboard. With a spacious interior and plenty of room on the deck for sunbathing and socializing, you'll never want to get back to shore. The Cheoylee 92' yacht has a total capacity of 25 passengers, meaning plenty of room for all of your special events and gatherings. The yacht can also accommodate up to 12 guests for groups that prefer an extended stay.
The Cheoylee 92' yacht remains one of the most stylish and comfortable vessels available in the GEM Fleet. Consisting of two levels, the boat offers just enough room to eat, play, and relax during your time on board. The top level of the yacht consists of a main lounge area, complete with dining table and chairs for meal gatherings. The dining table is large enough to accommodate up to 16 guests comfortably, making the Cheoylee 92' the perfect fit for bachelor parties, corporate events, and other types of celebrations.
The top interior level also sports a spacious kitchen that is equipped with everything you need for preparing meals. There is even enough room to hire a professional chef to come on board with you to prepare your meals. On the lower level of the yacht you'll find the cozy accommodations. This includes four spacious suites with soft bedding and adequate storage space for your belongings. Along with the four cabins, the Cheoylee has a total of four bathrooms. This allows all of your guests the chance to relax in their own space without feeling crowded.
The Cheoylee 92' yacht is also a fisherman's paradise. The mega yacht has everything you could ever need for an epic fishing trip. On board, you'll discover a wide range of fishing gear, as well as an experienced crew to give you any pointers you need. Panama is known as a popular fishing destination and the Cheoylee 92' reflects the country's mission to provide amazing outdoor adventure opportunities. If you enjoy fishing or just love being out at sea, you'll absolutely enjoy spending the day yachting in the beautiful Panama waters.
When you reserve the Cheoylee 92' yacht, you'll be provided with a number of complementary amenities and other great perks. Your reservation of the boat includes your own captain and deckhand to ensure that everything goes smoothly from the minute you step on board to the moment you return. The yacht also offers a sunbathing deck, big game fishing gear, a sound system, and a motorized dinghy. Other great features you'll have access to include air conditioning, a BBQ unit, outriggers, and a fridge stocked with cold beverages like water, Gatorade, juice, and beer. It's a true paradise on the open sea.
The Cheoylee 92' yacht combines convenience, style, and comfort all rolled into a luxury vessel. The boat provides plenty of walking space around the side decks and boasts full beam accommodation spaces. Large windows give guests relaxing inside the chance to take in the picturesque views and the sundeck provides ample opportunity to soak in the warm sun rays. Whether you live in Central America or are just visiting, considering partaking in a memorable yachting trip. For an affordable yacht excursion, rely on VIP in Panama to bring you a variety of VIP services, package deals, and access to a large fleet of yachts and boats.
Reserve Cheoy Lee Yacht Rental Now